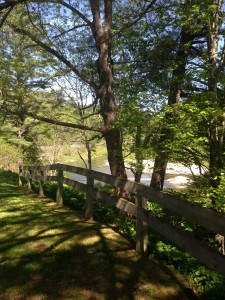 Cycling on the road requires vigilance and almost intuitive awareness. In addition to working hard to maintain speed (and not get dropped by companions) and working even harder to climb (especially if you live in hill country like I do – Vermont), we cyclists also need to guide our skinny tires away from cracks and potholes, anticipate terrain changes in order to refrain from popping a chain, know where oncoming and following traffic is at all times (hard to rely on hearing with the new quiet cars) and ride predictably to give motorists a few guidelines.
We need to carefully plan rides (especially for those of us who get lost easily and really don't want to backtrack over that climb), prepare well for emergencies (tires and tools, energy bars and waters), and, of course, the inevitable surprise rain shower or drop in temperature.
This past week, for example, one group ride was cancelled due to rain, black skies, and forecasts of everything from hail to tornados. As luck would have it, at ride time the rain stopped and none of the other things occurred.  However, best to be on the safe side. We did not ride. The  next day appeared to be gray but decent – until we got about 3 miles from the start, realized the roads were wet and we were wetter. What is the moral of this story? There is none. Plan as carefully as possible and then be flexible enough to deal with reality, I guess.
There are some things I did learn this week however.  Wet roads do not necessarily mean that narrow bike tires are destined to slide out from under the rider.  Of course, when faced with wet roads it is important to ride conservatively, avoid the slippery painted lines and don't choose that day to practice cornering aggressively.  Other than that, you should arrive back at the start without incident.
Then there are those sunny days.  If one comes along, drop everything and add a just-for-fun ride.  I am accustomed to riding purposefully and considering each ride as a training ride. I do realize,  however, that some days it is equally important to ride unplugged – leave the heart rate monitor or power meter numbers out of a casual jaunt. Even more, take the time to stop now and then to check out the scenery.  Sometimes I ride along and, out of the corner of my eye, note the redwing blackbird that sits on the sign at the side of the road clearly standing guard over a nearby nest. I might smell the scent of fresh cut grass or notice the proliferation of wildflowers tempted to stop to take a picture of a common field made brilliant by dandelions.
It's ok to do that, you know.  With most of us carrying smart phones, a nice camera is sitting in a jersey pocket. This week I rode past a sight so familiar to me that I took it for granted, until I noted the way the light was cohabiting with  the shadows (photo above). While I may not know what my average HR was on that ride or what watts I used going uphill nearby, I will remember this view. Now, as my computer wall paper, it reminds me to go ahead, ride unplugged and don't miss the scenery – at least once in awhile.