Being a road cyclist in Vermont isn't easy.  I say this with reluctance though because it seems counterintuitive. The fact is, there are no other places where I would rather ride my bike.  From quiet country roads to more daunting mountain passes, Vermont offers a wide range of road riding for every interest level.  Throw in fantastic summer and fall months, and top it off with our friendly and active communities, I would expect a perfect recipe for road riding culture. Despite these facts, it's still difficult.
I grew up in Montpelier, and started riding my bike at a really early age; mostly mountain biking.  Most of my friends didn't ride though.  Nobody wants to ride their bike alone all the time, so inevitably I began to ride less and less as I grew older.  However, around 7th grade, my dad got me my first road bike.  It was a white steel Specialized Allez found in the basement of the shop.  It was gorgeous!  He had been riding road bikes for a long time, and this gave me the opportunity to ride with him.  After getting over the initial shock of being stuck on two 23mm wide tires, I began to fall into step quickly.  Because of his work schedule our rides were still limited to mostly weekends, and if I wanted to ride more I had to go on my own.  This meant navigating the open roads by myself, and I quickly fell victim to the one route routine; route 2 west.  It was what I knew, and what didn't get me killed.  So I stuck with that, too nervous to expand my riding to other roads.  That became a bit stale after a while.  Meanwhile, my friends were still doing other activities.  So, inevitably, my riding remained inconsistent.  Cycling had its moments though.  A few years in a row I traveled up to Montreal with a small group from Onion River Sports, and participated in the Tour de l'Ile, a 50km grand fondo that brought out more than 20,000 cyclists.  One summer during high school I spent two weeks touring around Nova Scotia by bike with a group of friends, tenting each night wherever we ended up at sunset.  On more simple days my Dad and I would just ride out to Richmond and have a break at the bakery before returning back to Montpelier. It was these experiences that kept me hooked, always wanting more.
At the start of high school I turned my attention to running, and remained focused on track through college.  It was only on rare occasions when I was looking for longer training hours and needed a day off from running that I would bring my road bike out.  It wasn't until I returned to Montpelier after college that my attention shifted back to cycling.  I don't know what started it exactly, but something clicked, and I was loving it.  Although on the smaller side, there was a great group who I could rely on to train with at least a few days each week.  We fed off of each other's motivation, and found ourselves riding more and more each day.  In no time at all, I was riding roads and loops that I had never once considered trying when I was younger.  I was exploring parts of Vermont that I had never been to before.  Within a month or two of starting, I was racing twice a week.  Within a year, I was racing every weekend in races all over the country and Canada.  Months raced past in a blur of excitement and captivation.
Despite falling into cycling so quickly that first year, there were some basic road blocks to racing and training that made things far from consistent.  Having set some lofty goals for results, I was process driven and focused.  That meant that my daily training didn't necessarily jive with the few other people who I had been accustomed to riding with.  When I wanted to go hard, they wanted to go easy; and when I needed to rest and go easy, they needed to go hard.  With limited groups to ride with, this meant back to more time riding alone during the week.  When Thursday or Friday rolled around and it was time to get to the race, I would rarely have a drive that was less than 4 hours.  The few of us from town who were racing would carpool to races as much as possible, but a majority of the trips would be solo.  When I began to target larger races, I was usually driving 7-8 hours if not flying.  Once again, it was clear that being a road cyclist in Vermont is not easy.
I am extremely fortunate to be riding for a Division II amateur team in Brittany, France for 2014.  I arrived at the beginning of February, and our season started February 15th.  Every part of this experience has been incredible.  Every part of life here seems to include cycling.  Every town or village has at least one finish line painted on the road somewhere near its center.  Every hill has a mountain sprint line painted across the road at the top.  There are races 3-4 days out of every week, at the least, and all are within a reasonable drive.  Every one of these races is in the heart of French cycling, and the level of competition is always outstanding.  Outside of racing, when you ride your bike down the road, everyone says hello to you.  There is the occasional erratic driver, but for the most part people here respect and support cyclists. All of this amounts to one basic difference that seems to separate life as a cyclist in Vermont and life as a cyclist in Europe; support and organization.  Here in France, clubs support riders beginning as early as 6 years old.  The riders of past generations remain heavily involved in the sport after they retire, and this means new generations have experienced professionals to turn to for guidance.  Local governments sponsor regional teams and youth development.  The infrastructure of roadways protects and encourages bike use.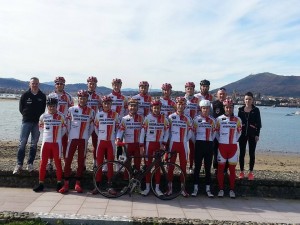 Team in Basque country 2014.
Riding my bike in Vermont is one of the most pleasurable things that I know.  But throughout my experience with riding in the Green Mountains, there are certain obstacles that have the potential to stop somebody in their tracks.  These are serious, but most are easily overcome if you get the right guidance and support.  This might mean providing route recommendations and group riding rules to new riders who are nervous about interactions with cars and other road hazards.  Or, it could extend to include advice for training and racing.  It's exciting to see the riding community in Montpelier and Vermont growing, and how much potential it has.  The organization and growth of local clubs like Road Spokes, youth development such as Killington Mountain School or 1k2GO, and fantastic race promotion by locals like Gary Kessler and Jean Lacroix with Green Mountain Stage Race, Killington Stage Race, and Barre Grand Prix all mean that Vermont will finally begin to see the benefits of this organization and support.  When that support becomes readily accessible, people will be doing more on the bike than they expected or planned in no time at all.  If you are new to road riding and there is something that you think is holding you back, I can guarantee that 100 other people who have probably had the same anxiety at some point.  Now, more than ever, it's easier to turn to one of the many people who are part of cycling in central Vermont to help get you rolling in the right direction!