Periodized training often corresponds to seasonal changes, sports and each individual's personal preferences. Here in Vermont the autumn of 2016 has been sunny, warm and dangerously dry. However, it has also been an excellent season to view an unusually vibrant foliage season and steal as many outdoor hours as possible to train and/or play.
Fall can be a tricky time. For those of us who thrive in the warmer months of high energy and correspondingly high enthusiasm, the shorter days and cooler temperatures of autumn can drop us into a bleak state of imbalance, susceptible to cold, low energy and a lack of motivation. Perhaps it is the loss of summer's bounty that makes us feel this way – the inability to play late in the day after work, the need for layers of clothing, (and, yes, gloves), the loss of our cycling season (for those of us who road bike only above 50 degrees!), the advent of hunting seasons that limit our hiking and woods time, and an undefined heaviness of heart that manifests itself in leaden legs and slow feet.
Yoga students might find that they check the boxes of VATA characteristics and determine that this year they will find balance through their Yoga practice. Athletes might begin their transition into the gym to emphasize strength training to support their summer aerobic training and activities. Fitness enthusiasts might need to join classes to maintain motivation and to replace their after-dinner walks or group activities on lakes or trails.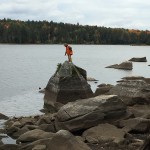 Then there are the others who are chomping at the bit for the first signs of snow – those who wait and/or train for months following the spring's melt until there is enough snow cover to pursue their sport. For skiers and boarders the long hours of endurance work are done and they are already ramping it up for strength, power, quickness and agility, activities that generate enough body heat to eventually nullify freezing temperatures.
We are so very individual – in body type, preference, adaptation and spirit. There is no right or wrong. We are all needed to complete the human portrait.
Balance may well be the key to transitioning from one season to the next. We live and move and breathe in cycles; the pendulum swings from lethargy to adrenalin, weak to strong, slow to fast, defeated to victorious. Should we fight or go with the flow? Should we make excuses for ourselves or push through? Is there something wrong with us? NO. We are fine. We are human. We ebb and flow like the ocean, rise and set like the sun and moon, and change as the seasons.
There are tools to be used and our contemporary civilization is seeking answers to ancient questions. It's true, some are affected quite seriously by seasonal disorders and need more that self-help. But others of us who simply notice our seasonal preferences might want to delve more deeply into researching tools that are available such as updated information about nutrition, sleep, meditation, exercise and counsel.
Plan ahead. Just as you would fill your backpack with fuel, liquids, layers, cell phone and other safety needs prior to a hike, so fill your toolbox of helpful aids as changes near. For example, when you must put your kayak or road bike away for the season, replace those hours with something different such as mountain biking, walking or, when appropriate, hiking. Not only will you work different muscles while maintaining a certain amount of aerobic conditioning, you will also begin to acclimate your body and resistance to cooling temperatures. And then there's the concept of trying something new like indoor climbing, swimming, Spinning®, martial arts, Yoga or square dancing.
Enough said. YOU are the one to best identify your needs and select options that spur your interest and tease your motivation.
Bottom line? Plan ahead; seek balance; try something new; take heart. Each season ultimately segues into the next whether we like it or not!
*******************************************************
October 18. 2016:  I have heard from a number of you that this time of year is all about putting things away. In the spring we get "things" out – sports equipment, gardening supplies, etc and now we put them away. It is also a time of harvest. In the spring we plant, and in the autumn we reap. Perhaps here in Vermont we mimic the former farming lifestyle that turned inward during the wintemonths to mend harnesses rather than plow fields.
Read what one of you had to say about autumn:
"I love the changes that accompany the fall season.
The garden has been put to bed, the fields mowed,
the woodshed is full and it is time to explore the
woods. You see things during stick season you
never see any other time of year and hunting lends
a bit of excitement and focus. As soon as the hunting
season ends we can put on our skis and skim along
through the serene, brilliant white landscape in
the cold and invigorating air. Then you come inside
to the warmth of a wood stove, a hearty dinner and a
night of reading and listening to classical music.
What could be better."                                  Rodney Buck