While at Kripalu in January, I picked up this post card.
It is a request for donations to help share the Yoga experience, but the message is an apt reminder that Yoga is, indeed, for everyone. Whatever one's age, physical ability, educational, social or political beliefs, anyone and everyone has within his or her reach the practice of Yoga.
Full disclosure. Oh how I resisted Yoga! With a long-ago professional ballet career in my resume and a boatload of training and certifications as Personal Trainer, athlete and Fitness Professional, I was sure that, in addition to strength and cardio training, a sensible, flexibility routine was all that one needed to remain healthfully fit and functionally sound.
Then, just two years ago, I woke up one morning and thought "Yoga is missing." A quick check on my computer identified an attractive Yoga studio just minutes from my house. "Serendipity," I thought. And I was off.
I began with a one-hour class each week. Then two. Then I explored classes in my area and while on vacation. I started to read. And read. Bottom line, I was, and am, HOOKED. Within weeks I will have completed three certifications including my basic 200 hour Yoga Teacher Training, Teaching Yoga to Athletes, and level one of YIN yoga.
I am fully cognizant that this is just the beginning, the tip of the iceberg, the scratch on the surface. Yoga is so very much more than the asanas (the Yoga poses) and the "workout." Yoga is the epitome of mind-body connection. In fact, it sounds trite to say even that. I am humbled by all that Yoga is. I do not have enough years left available to me to learn enough about Yoga to teach the many aspects of the practice, but I can share what I do know and share my respect for this ancient wisdom.
Perhaps the first thing I want to share is this – whoever you are and whatever you do, wherever you are in life's journey, I encourage you to cast aside preconceived notions, find a legitimate Yoga studio in your area and begin at the beginning. Check in with the studio, introduce yourself as a newbie, ask about an appropriate class to attend, and then attend several. Give it a chance. Take time to openly experience breathing techniques, flexibility, balance, and, yes, strength challenges, honor Savasana (you might welcome the stillness at the end of the class or be popping to get on with your day, but stay…) and listen to the cues flowing from your instructor. Then pay heed. How do you feel later the day of your class, the next day, the day after? Do you notice a change in your energy, your mental acuity, or your spirits? Does your body feel leaner, primed? (Over time you will even note that your performance is enhanced and you acquire tools to help you get through your days, activities, workouts, meetings and competitions.)
Remember Yoga has been around for thousands of years. You are not going to take a big bite out of it in just a few weeks. Become an observer, a participant and a friend.
One of my favorite quotes comes from Julian Fellowes (Downton Abbey), "Everyone deserves a few moments when life is quite perfect." Might those few moments be found in Yoga practice? .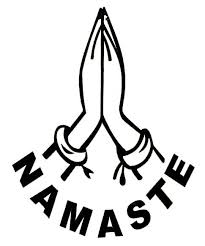 Yes, Yoga is for everyone and Yes, EVERYONE DESERVES YOGA.