Nothing beats hiking for autumn fitness – at least not here in New England. If you do not live in an area of seasonal changes, please plan to visit. Even with the strange weather conditions we have all been experiencing this year, autumn is still heralded by shorter days and falling leaves. True, temperatures have been disturbingly higher than usual, but it appears we are now back on track and the 30s-50s are on their way.
Each of us has a seasonal preference. I love the summer months and can't get enough of the outdoors. Others hide from the sun and break out when the snows fall. Thankfully there's something for everyone in a four-season state (Though here in Vermont we credit an extra season for stick season or mud season – don't ask!).
But why might hiking get such high marks in the fall? Serious athletes are often transitioning from one training or racing season to another and there's a short lull in their work. Recreationally active individuals are eager to rebound from summer sports and land on something significant enough to tax their muscles yet relaxing enough to calm their hectic brains.
HIKING – For purposes of this post, hiking refers to trails that go up and down, over brooks and around boulders. Rocks, roots, ruts, mud, stone steps, wooden planks, ladders, ledge, exposure, fragile vegetation and weather conditions are all parts of the hiking experience. Trails, such as the Appalachian Trail and the Long Trail provide sections or side hikes that offer day hikers a piece of the pleasure of a thru-hike. Though walking paths through towns, fields or forests are very pleasant and surely an excellent outdoor experience in and of themselves, that's not what we're talking about here. Nor are the more extreme hikes of weeks or even months that demand a level of expertise, fitness and preparedness beyond that of the day hike.
PROS – Most able bodied individuals who can walk can hike.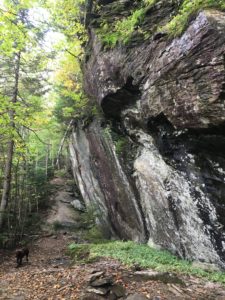 Get outdoors. Gain strength, agility, endurance. See beautiful sights along the trail and vistas from the top. Hike alone or with others. Steady pace is calming and allows time to think. Get away from it all for even a few hours. Feed your appetite for adventure and challenge. Enjoy a sense of accomplishment when you return to your car.
CONS – Most disadvantages of hiking can be summed up in one word – preparedness (or lack there of). Finding yourself on a hike that is too long or too strenuous is a deal breaker. Blisters or strained ankles from inappropriate footwear can ruin an otherwise remarkable day. Getting lost, failing to carry water or food, not enough layers to be comfortable in cooler temperatures at the top or unanticipated rain … the list could go on and on.
PREPARATION – Though I said this above: Most able bodied individuals who can walk can hike… Gain strength, agility, endurance, it also must be said that preparation is critical to thoroughly enjoy a mountainous day hike. You do need to have a certain amount of strength (especially in the lower body and core – many complain of quadriceps soreness after a good hike), a sense of balance and practice dealing with uneven terrain, and should have built a level of endurance that keeps you moving for any where from 2-8 hours. Hiking can be both a reward from having diligently maintained fitness over the preceding months and a means to enhance that fitness by its practice.
see also http://lindafreemanfitness.com/2014/05/24/hiking-promotes-demands-fitness/ 
Furthermore, it is imperative to know where you are going. There are books, the internet and other resources available to help you chose a trail that is appropriate for you and/or your group. Personally I like to back up my cell phone (coverage is spotty) with AllTrails app and even a few notes on paper that will help me find my way. I rely heavily on trail markings (that white blaze is such a happy sight when I have mistakenly left the main trail) and make note of such things as unusual trees or rock formations or whether I am following a brook. (Cell phone pics are useful here.) I famously get lost driving to a trail head (even with Google maps) and then again somewhere along the trail. So perhaps my preparation is a little more significant than yours might be!
You don't want to be a packhorse and carry so much gear as to burden your play, but you do need to have the basic necessities. My go-to pack includes water, energy bars, gloves, hat, at least one long sleeved layer and a windbreaker. I usually add dry socks, sunscreen, insect repellant, small first aid kit, cell phone and headlamp. Basically I know the distance I intend to hike and that I will probably not run into trouble. (I have, however, exited a hike at the wrong place necessitating several miles of road walking to find my car.) I also know that hikers are very friendly and will help each other if possible. If you rely on this, be sure to choose a hike that is heavily trafficked!
HIKING WITH MY DOG – For many years I have wanted to hike but am usually alone so have been hesitant. As a city slicker pretending to be an active outdoors Vermont girl, I'm pretty much a wuss. This year I have upped the ante and have hiked as often as possible. My now one-year old Lab, Sophie, is my constant companion. We have played in the woods on local trails, MTB trails, and town forests – all of which are great for building up both conditioning and behavior on long days when there is plenty of time after work in the evenings to do so. We laid the foundation for several months (on leash and off) before heading to the hills.
Now we are adventuring every weekend and plan to move up to New Hampshire's 4000 footers in the near future. I am learning how to pack her water, leash, treats, extra food, and water bowl. I have studied a wonderful little guide to hiking with your dog in New Hampshire and Vermont. Though written in 2005 and somewhat dated, it is super helpful. https://www.amazon.com/gp/product/0898869889/ref=oh_aui_detailpage_o05_s00?ie=UTF8&psc=1
I do my best to practice good trail manners, leash my pup when it is best to do so and unleash her when it is equally appropriate. On a good day, on a busy hike, she will be leashed and sit to the side and wait while hikers pass. On a good day off leash on a lightly traveled hike she will run up to greet an oncoming hiker, but sit when she gets there and wag her tail. If another dog is off leash, I allow her to be the same and often she and her new friends romp for a few minutes while we proud parents swap dog stories. If all dogs are leashed, it's harder as she is uber eager to make new friends. In fact, as you might expect, my Lab pup is often uber eager about most things.
Alas, another Hiking Pro – she sleeps very well after a long hike!
WHAT NEXT? – What happens next is anyone's guess. As the days grow shorter we working folks have less time for the outdoors and often become weekend warriors. Hiking trails become treacherous in fall rains and wet leaves and downright nasty when covered by thin layers of ice. Maybe it's back to walking the country roads for a few weeks? But then the white stuff will come to beautify the world and nudge us on from boots to microspikes to snowshoes to skis and to more fun adventures ahead. The trick is to just keep getting out there, right?