WHAT IS PERSONAL TRAINING
STRUCTURE of PERSONAL TRAINING
INDIVIDUAL, BUDDY or GROUP
TRAINING IN THE WORKPLACE
TRAINING WITH FRIENDS
CONSULTATION
PERSONAL
FAMILY

WHAT IS PERSONAL TRAINING?
Personal Training is just that:  training that is specifically designed to meet the fitness needs of an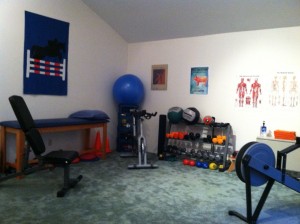 individual person.  Though personal training comes with a price tag, it is worth the fee.  Writing that check and scheduling personal training time become powerful motivators and significant keys to accountability.
Efficient and effective are two of my favorite words and perhaps best describe appropriate personal training.  In your busy life, the little time you have to devote to your own conditioning should be time tightly structured to get the job done.  Eliminate the wasteful use of ineffective exercise, the junk hours, and make every effort count.
Whether new to personal training, returning to it from a break, or taking a fresh look at your current plan, it is good to begin at the beginning, to carefully identify achievable goals.  Dream.  Dream big.  Let opportunities and possibilities tease you.  But be sure that you are reaching for the reachable.
Assessment, a realistic look at where you are right now, is the next step.  Gradually and intelligently working your way forward through strength conditioning, aerobic exercise, and lifestyle changes is a process, a journey that will include exploration of your personal and individual nutritional needs, flexibility, balance and recovery time.
Preparing for events, learning of periodization, taper and recovery, fueling effectively, sleeping well, utilizing good technique and form to reduce the risk of injury and learning to manage rehabilitation for healing – all are important aspects of personal training.   It's all about YOU.  A personal trainer is there as your advocate to help you sculpt the training that works best for YOU.
STRUCTURE of PERSONAL TRAINING
Personal Training comes in many sizes.  Some clients prefer to meet one or more times weekly to insure dedication to their fitness.  Others prefer to check in randomly for a tune-up.  Some simply need one, long introductory session to review their goals, assess their needs and build a plan.
When I moved to my new, small, personal training studio, the comment I heard (and continue to hear) most often is "This is so personal.  There are no distractions.  I am focused and you are focused on me!
INDIVIDUAL, BUDDY or GROUP
While some choose to train individually, training with a friend has advantages.  The cost is lower per person and each shares and sustains the other.  It is not uncommon for two training together to suddenly burst out in laughter at the incongruity of a particular exercise or a mutual challenge.  "Buddy" training is somehow just as personal, but perhaps more fun.
Group training leaves less room for total focus on a single person, but group dynamics carry the session.  With two or more scheduled to meet at a certain time, there is little opportunity for a "cop-out" and accountability maximizes, each becomes responsible for the other and team dynamics take over.  As an experienced personal trainer, I miss little, but there is no denying that, for safety as well as utility, the focus in group is geared to the median.
TRAINING IN THE WORKPLACE
Corporate fitness has been acknowledged as an effective adjunct to a working day.  Taking time to step away from the computer or out of the meeting, eating healthy foods on a regular basis and managing daily exercise have proven to be positive steps to mental and physical health and balance as well as overall employee satisfaction and productivity.
I currently have two corporate clients:  one a large group at Blue Cross Blue Shield of Vermont, located at their campus in Berlin, and the other a small group in the Ameriprise office in Montpelier.  Both are equally effective and help to promote fitness and well-being.
TRAINING WITH FRIENDS
Training with others offers a sense of camaraderie, safety, encouragement and healthy competition.  I see this almost daily as I train corporate clients, lead Spinning® classes or ride with my training partners as well as the group of cyclists I lead with the help of Onion River Sports during the cycling season.  Groups lead to better performance, motivation, confidence and friendship as together we experience challenge and success.
CONSULTATION
Consultation might refer to an isolated session solely for the purpose of helping an individual identify concerns, potential, and steps to take to increased strength and fitness.
Consultation is also designing a home or business gym.  Today's emphasis on total mind/body conditioning eliminates the need for costly machines that end up on Craig's list.  Functional training, core stability, exercise that is specific to the individual, can be achieved with intelligently designed training plans utilizing modestly priced equipment such as TRX, Bosu, stability balls, medicine balls, bands and tubing.  A home gym may have limited space; equipment can be added as training progresses.  The key ingredient is choice.  Choose to travel the road to fitness and then get on with it!
PERSONAL
As a Certified Personal Trainer, I draw on a background of extensive education and am particularly respectful of my certification as a Movement Training Specialist.  My current passion is cycling.  I bring to my work a background enriched by my own experiences of fears, failures and inadequacies as well as accomplishments and success measured in growth, in reaching goals.
In another life, so to speak, a highly structured, demanding and emotionally charged life, I moved from professional, classically trained ballet dancer to teacher to competitive equestrian, through a divorce and into the world of fitness.  Recreationally I struggled with fear and doubt in Alpine and then with Nordic skiing.
My practice changed over 5 years ago when it was necessary for me to undergo total bilateral hip replacement surgery, a byproduct of my dance years.  My recovery was and continues to be spectacular – partly due to the expert medical skills and subsequent care of my orthopedist and physical therapist, and partly because of my overall excellent health and fitness.  I determined then to dedicate my practice to helping others maximize their wellness potential.  Let's face it, bad things will happen.  But, if one approaches a physical or mental challenge as a fit individual in strength and confidence, surgery or other intervention becomes significantly more manageable and recovery expedited.
Finally, I believe it is the obligation of the personal trainer to educate and inform clients.  My hope is not to commit clients to regular personal training hours, but to empower them to continue on their own with personally excellent exercise and nutritional habits a permanent piece of their daily lives.
FAMILY
My goal is, and always has been, to be there for my children.  Now I have added to that goal, I want to model for my children and my grandchildren what a life of deliberately consistent training produces in health, quality of life and in the sheer, daily exuberance of living.