Vermont's hills are alive, maybe not with the sound of music, but with enough trails to entice travelers of all ages and fitness levels. Visitors to the state often arrive with lofty expectations and footwear from flip-flops to alpine hiking boots. Residents all too often become careless and find themselves in trouble on ill-prepared adventures.
Perhaps the bottom line is that Vermont's hills and mountains offer exceptional hiking experiences for everyone, but preparation is the key to a positive experience.
Day hiking is potentially available to anyone who can walk and carry a light pack. Appropriate gear is advised for comfort and safety. Other hikers, sporting goods stores, a visit or call to the Green Mountain Club (www.greenmountainclub.org) or your trusty search engine can explain equipment needs.
If you want to take advantage of the trail systems (stick to them so you don't get lost) and the vistas (choose your hike commensurate with your capability), it is wise to plan ahead.
The process, putting one foot in front of another to travel a path, enhances fitness by strengthening muscles, increasing bone density, challenging balance and improving cardiovascular fitness.
However, to better enjoy your excursions into the woods and upward, it is wise to prepare with some hiking-specific training.
Clearly, leg strength is significant. You should regularly and deliberately perform exercises that benefit the quadriceps in the front of the legs, the hamstrings in the back of the legs, the gluteals (well, you know what your glutes are and they are far too often, shall we say, under-appreciated?), the calf and shin muscles and the muscles of the feet and ankles.
Squats and lunges are excellent providing, of course, they are done with good form taking care that the legs are in alignment and the knees do not extend beyond the toes when squatting or lunging. Sometimes a wall sit is preferred as form is easily monitored. Simply sit against a wall in an imaginary chair position and hold for 30-60 seconds, or longer as you strengthen.
Step-ups are great for engaging the glutes and, while you're at it, don't forget to practice stepping down, again with good form and alignment. After all, "what goes up must go down" refers to trails as well.
Use of Bosu trainers, wobble boards, dyna discs and other balance equipment not only helps your body to practice handling unstable surfaces, but tests ankle strength and proprioception. For most populations, correctly performed plyometrics, or jumping exercises, increase bone density and prepare the body to hop down from rocks, jump over fallen trees or maneuver brooks.
As always, core strength is significant and necessary. There are many ways to improve upon the functionality of your core, remembering that it is the core (not just abs, but everything from shoulders to, and including, hips) that sustains movements and stability of everything you do. An oft-recommended core exercise to train and test is holding a plank or performing a variety of movements in the plank position. (Think of your body as a plank or board supported on hands or forearms, recognizable as the beginning of a push up.) Planks are best performed with abdominal muscles and hamstrings engaged and held for 30-60 seconds.
Carrying a pack puts extra stress on shoulders and back as well as taxing energy, breathing and overall cardio fitness. Because hikes usually involve several hours of steady movement, endurance is a prerequisite, along with fueling and hydrating adequately throughout the duration of the outing.
For the average hiker, conditioning prior to hiking season is a reasonable commitment of 30-60 minutes 3 times a week for 4-8 weeks. Conditioning for lower body, core( including shoulders and back) and flexibility, topped off with gradually lengthening and intensifying continuous aerobic work such as walking, should be enough. More strenuous hiking and climbing requires more specific training. Once the season begins, hiking regularly will further condition what you have begun. Stretching and caring for strained and tired muscles remains a necessity.
By intentionally addressing the components of enjoyable and effective hiking in advance, a good experience is more likely to follow.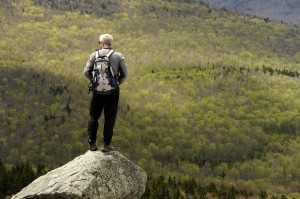 Photo:  Jeb Wallace-Brodeur, 2014.
This article appears in full May 25, 2014 "Active Vermont" Rutland Herald & Times Argus.