Article published May 17, 2015, Rutland Herald & Times Argus, 'ACTIVE VERMONT'
AN URGENT NEED FOR COURTESY
With death resulting. It's an unimaginable way to end a sentence, an outing and a life. Every time a runner laces up his running shoes, a cyclist clicks into her pedals or a driver fastens his seatbelt, he or she ventures onto a road that may lead nowhere.
Vermont attracts people who choose the outdoors, who choose to walk, run and ride. The reasons for doing so vary from an economic or environmental incentive to leave the car home, to recreation, health and fitness or training for pleasure or competition. That people who make this choice risk injury and death is an unnecessary and sad reality.
Sometimes the line between safety and fatality is as fine as simple courtesy. Vermont law dictates the rights and responsibilities of all concerned in what is known as the Vulnerable User law in which motorists, cyclists and pedestrians are mandated to share the road and to do so abiding by laws designed to protect, not to punish.
Transcending the clearly defined rules of the road are actions that bond a community and build a state in which quality of life is imperative: respect, tolerance, patience; a pause, a smile, a thank you.
Already this year the news has been sobering. On April 14, Kelly Boe of Middlebury was struck and killed by a motorist while riding his bike in Weybridge. On April 26, Richard Tom of Hinesburg was killed by a motorist while riding 1⁄2 mile from his home, an incident in which the young driver lost his life as well.
Yes, in Vermont communities, such sorrows serve to bring out the best in neighbors and friends. On May 4, 400 rode in memory of both Richard Tom and Joseph Marshall; and on May 5, a ride was held in Middlebury to honor Kelly Boe.
The Green Mountain Bicycle Club established The Richard Tom Foundation to honor the cyclist's memory and to promote bicycling and bicycle safety. The Kelly Boe Memorial Scholarship Fund, dedicated in his memory, is to encourage Middlebury Union High School students and continue Boe's commitment to their success.
Jason Van Driesche is Director of Advocacy and Education for Local Motion, an organization designed to promote opportunity and safety for pedestrians and cyclists. This spring's fatalities have spurred the organization to take stronger and broader steps to reach goals and function effectively.
"Local Motion is officially statewide," Van Driesche said. "Now we have to make good on that promise. We must engage in communities all over the state." What works in one community might not work in another, he said. "We must explore their needs and wants." (www.localmotion.org).
Van Driesche and his wife moved from Western Massachusetts to Vermont after a Christmas visit with family in Middlebury and then welcoming the New Year in Burlington. They loved what they observed and experienced."We saw some of the best qualities of where we grew up," Van Driesche said. Shortly after their relocation to Vermont, each embarked on a new job. Van Driesche has been with Local Motion for six years and embraces the mission "to help communities become great places to walk and bike," he said.
With advanced degrees in urban planning and conservation management, Van Driesche said: "What I'm interested in is connection between people and places. We need to relocalize Vermont's transportation system. We need to make it safe and comfortable to travel around your own community, to give people choices." Van Driesche doesn't live far from his work, but a sharply uphill morning ride begins his day. As a commuter, he recognizes the difference between biking as a means of transportation or recreation and that of training for cycling performance. "We try to talk about activities and choices," he said. "The focus on what we do is on the middle drive-walk-bike. Some people would do more if they actually felt safe."
Most people who walk or ride a bike, also drive a car. The reverse is not always the case. Perhaps there would be more understanding if it were so. Van Driesche believes it is divisive to consider bicyclists and pedestrians separately as both need consideration, and, in fact, many more walk than ride.
Local Motion identifies street and road design as particularly significant for pedestrian safety. Noting individual action and personal responsibility, Van Driesche said: "There's a much larger piece, bigger than any individual. The best way is to design an environment for safety."
Working closely with VTrans, Local Motion finds partnership in revisiting state road standards, plans, construction and maintenance, attempting to look forward in so doing.
Local Motion offers the program, "Everyday Bicycling Project" to give people practical skills to use a bike as transportation. These free workshops are available around the state. (Contact Mary Catherine Graziano, marycatherine@localmotion.org.)
"The Vulnerable User law," Van Driesche said, "has given people a vocabulary for talking about how our streets and roads can work. Having discussion helps to shift conversation from 'what are the cyclists doing on the road?' to 'how can we play safe together?'"
Recently Van Driesche addressed the role of law enforcement at the Vermont Police Academy in Pittsfield. He told a class of new candidates, "Vermont is the third highest state in the nation of people who walk or ride to work." He pursued the effective use of enforcement as a tool for improving safety. The law is spelled out and enforceable.
The vulnerable user, one with no built-in protection, also travels roads that were, for the most part, not originally designed with their safety in mind.
Though the specifics are clear with respect to rights and responsibilities of all users, there are gray areas that are often a matter of judgment. For example, a cyclist may attempt to ride predictably and toward the side of a road, but to do so insofar as it is practical. When a motorist approaches a cyclist, the motorist might not understand that there is a pothole or debris on the shoulder that the cyclist needs to avoid. Awareness is a significant concept. Simply taking a foot off the accelerator could prevent an accident.
"Consider this," Van Driesche said. "If a car travels at 40 mph in a 25 mph zone and hits a walker or cyclist, there is an 85 percent chance of death. In a 55 mph zone, though, it doesn't matter if a car is going 55 or 70 – you're dead either way." If, however, a car has slowed to 25 mph with 45 feet in which to stop, there is a 95 percent chance of survival for the pedestrian or cyclist. If a motorist is in a hurry, perhaps a good habit would be to leave a few minutes earlier.
There is much to discuss and, in light of recent events, discussions are more meaningful. Information needs to be disseminated to participants, law enforcement, driver's education instructors and students, and the public in general.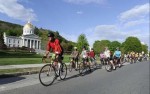 Each year the National Ride of Silence is held on the 3rd Wednesday in May to honor victims of bicycle and automobile collisions. (Photo by Jeb Wallace Brodeur.  Vermont Lt. Gov. Phil Scott leading the 2014 Ride of Silence in Montpelier.) This year rides are planned for Northfield and Middlebury. Not everyone participates as each has his or her own way of promoting safety and honoring victims. "My preference is to focus on positive solutions," Van Driesche said.
There is a clear correlation between increasing numbers of walkers, runners and cyclists on the road and the potential for accidents. Interestingly, in practice, roads that are highly utilized by vulnerable users are often safer; perhaps because motorists anticipate sharing the road.
While there is a pressing need to address safety here in Vermont, there is also a need to preserve the joy of walking, running and riding. This is not a case of us versus them, motorists versus athletes and active others. This is a case of communities coming together, of a state that supports, encourages and attracts active participants, a case of sharing the road and infrastructure on which to do so. Courtesy — motorist to vulnerable user and pedestrian, runner and cyclist to motorist — is a big part of the answer.