Whether unrolling your yoga mat, unzipping your gym bag, lacing up your running shoes, clicking into your pedals, or tapping 'start' on your fitness computer of choice, what is your intention? Why are you about to do what you are about to do?
For many years I have urged my students to define their goals, be able to explain to themselves just why they are trying to manage heart rate, increase flexibility, build strength, achieve quickness and agility. Furthermore, what is the purpose behind each training session, each exercise? OK, you might be trying to tweak your fuel, increase your sleep, include Yoga in your training – but why?
Of course there is science behind all of it, but perhaps the more significant element might be why do you WANT to do___________________ (fill in the blank)?
Are you seeking happiness? According to Bridget Jones in her Diary, 'Happiness does not come from wealth or power, but from the attainment of reachable goals.' (paraphrased)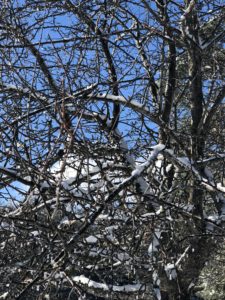 Each January 1st I ask my clients to hone in on a goal or two for the coming year – specific and attainable. This year the stars came out and I was able to post an entire board of wonderful, meaningful and achievable goals.
There were specific goals such as more ski days this year, prepare for knee replacement surgery, develop a home Yoga practice, improve my golf game, mountain bike 3x per week, improve posture, ride the Kelly Brush Century, hike some of New Hampshire's 4,000'ers, run a faster 10k.
There were generalizations such as enhance balance, maintain ability to work in the woods, continue with personal training, increase arm strength, build core stability.
I received a card that read: "Live with Intention. Walk to the edge. Listen hard. Practice wellness. Play with abandon. Laugh. Choose with no regret. Continue to learn. Appreciate your friends. Do what you like. Live as if this is all there is." (Mary Anne Radmacher)
This morning I attended a Yoga class that was packed to capacity. It was sheer joy. Our mats were nearly touching and our limbs moved through space with the exquisite awareness of our neighbor's nearness. Cognizant of each other's tiniest movements and aware of each subtle nuance and breath, I felt as if I sank ever more deeply into my own practice, my personal and individual experience.
I had entered the studio thinking that my Sankalpa would be something along the lines of practicing more expansively, enhancing strength and balance, moving fully extending my flexibility and skills as I stretched my heart and mind.
And then it shifted. My intention became itself – simply to practice with intention. And to share the 90 minutes with those with whom I also shared space, and oxygen, and the practice of Yoga. Lovely.
As I ponder the concept of intention, I think that Confucius had it right way back when … "Wherever you go, go with all your heart."